PRESERVE, UPLIFT, and upPE-T successfully present their work towards standardization
Last 27 April 2022, PRESERVE, UPLIFT, and upPE-T held the joint workshop "Standardization in plastics and in circular economy" to present their initiatives and presented each project's work toward standardization. The three projects are EU-funded projects under the European Union's Horizon 2020 Research and Innovation Programme. 

The workshop was divided into three parts. The first part introduced the three siblings project workshop's objective, and also saw the intervention of an expert to introduce the frame of the standardization in Europe and how European R&I projects can use standardisation as a successful conduit to valorise their results. 

Susana Xará, Project Adviser of Raw Materials at Health and Digital Executive Agency (HaDEA), European Commission, was the one in charge of delivering the presentation "Sustainable packaging, research trends and innovation" on the latest trends in innovative and sustainable materials. She also remarked on the importance of using LCA in the projects. Ms Xará also focused on the challenges that need to be solved to switch to more sustainable packaging.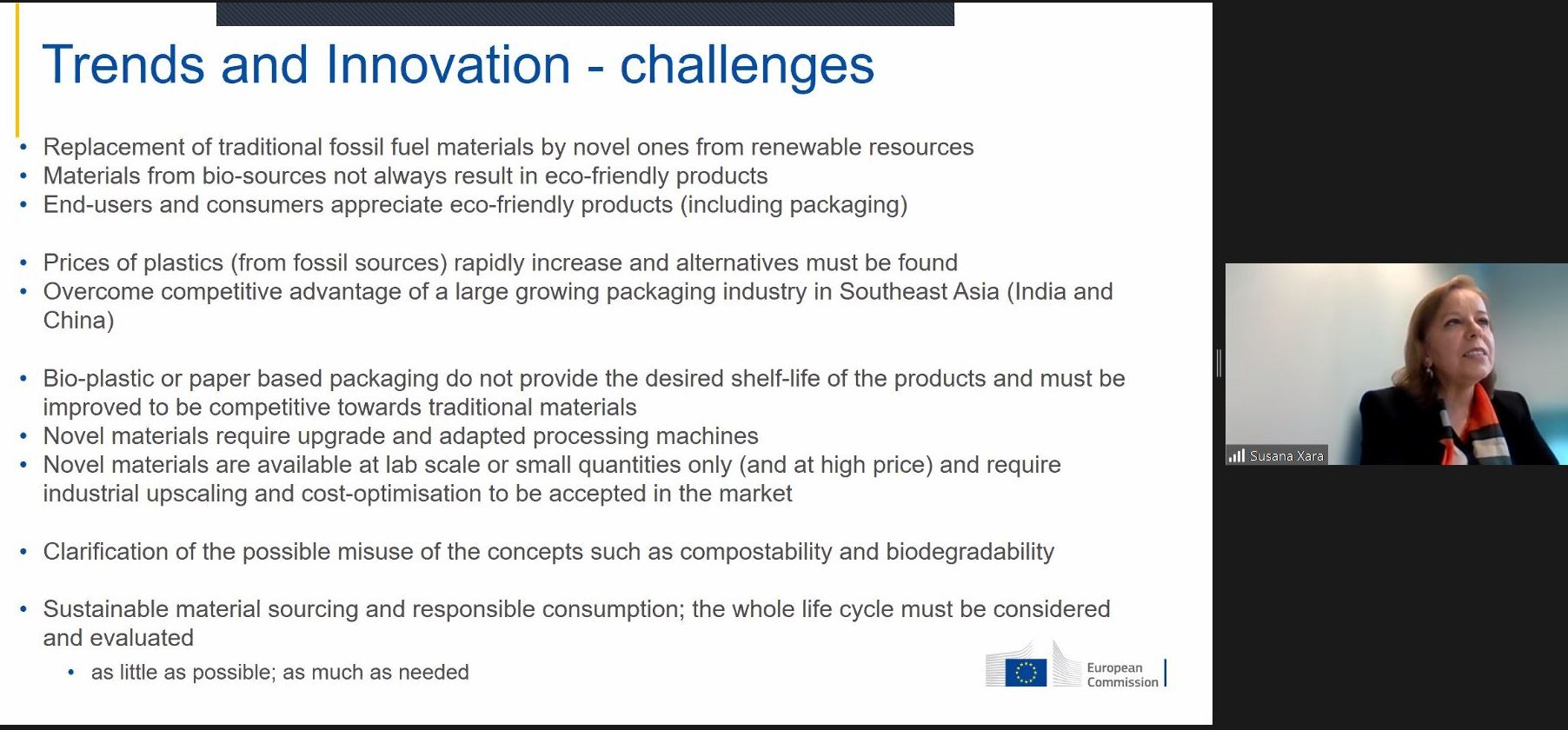 The second part was focused on how UPLIFT, PRESERVE and upPE-T are working on standardization. The floor was opened with the presentation from UPLIFT and Alberto Barranca (AIMPLAS) on "Standardization of the UPLIFT technology". Mr. Barranca presented the challenges that can be found in standardization in EU projects, and UPLIFT has a roadmap to solve them. It is important to engage companies, involve and initiate the work of different committees and to reach different workshop agreements, smaller standardization agreements between few companies.  
Next on was PRESERVE, with the presentation on "Standardisation and certification in PRESERVE" by Christian Schulz, from European Bioplastics. Mr. Schulz reported that in a project working with innovative materials, it is important to have the latest reports on standardisation, certification and labelling. This is one of the role that European Bioplastics has in the PRESERVE project, supporting the monitoring of all the regulations related to the project's main research activities in reducing food packaging waste. The time was also dedicated to an overview of certifications delivered by Kristina Bock from DIN CERTCO/TÜV Rheinland. Ms. Bock stated that certifications provide proof that a product or a material is actually what it claims to be, as 50% of organic content is requested to obtain the certification as a bio-based product. To be certified as home or industrially compostable, material undergo strict tests ndustrial+home composting materials and products biodegradable in soil follow strict tests: such as earthworm toxicity and plant toxicity test or chemical characterization, among others.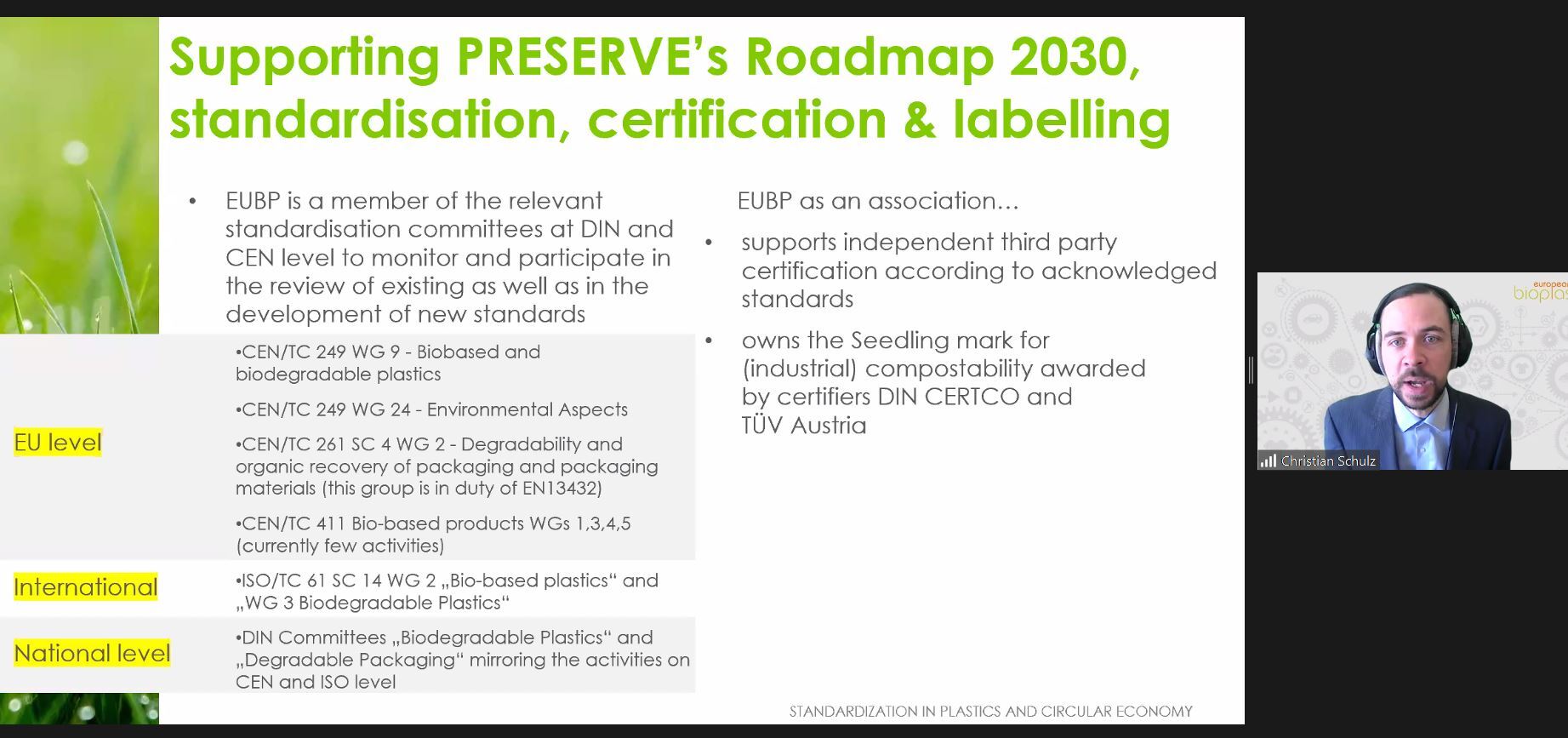 Last but not least for this session, upPE-T intervened with Henar Araguzo Rivera  and the role of UNE in the upPE-T project. Ms. Araguzo Rivera underlined the importance of Workshops agreements, a faster and easier way to reach the adoption of a standard among interested parties. 

The third section of the workshop was introduced by Kristin Geidenmark Olofsson from Circular Plastic Alliance who presented the different challenges of standardization in circular economy. Communication on standardization and recycling for plastics can be difficult, as many organizations of the world intervene to give their point of view on standardization in plastics. Ms. Geidenmark Olofsson also presented the Circular Plastics Alliance, an outcome of the Plastic Strategy in Europe, whose aim is to voluntary engage industries in actions and commitments to to ensure that 10 million tonnes of recycled plastics are used to make products in Europe in 2025. 

After that, an open discussion on the importance of standardization in circular economy took place. The exchange of views and Q&A session focused on discussing the outcomes of the presentations from the projects and the experts. The participants agreed that more involvement in standardization is needed from all stakeholders involved in the research for new and innovative materials. Also, the certifications schemes for materials containing recycled content and bio-based materials need to be updated, according to the latest advances. Also, the participants remarked the importance of collaborating in the identification of the different waste sorting systems in the EU, in order to monitor and try to reach a standard also in that field.
To review the whole workshop, you can watch the YouTube video.
The presentation are available on PRESERVE's website, in the Training materials section.
About the projects
UPLIFT - Upcycling of PE and PET wastes to generate biodegradable bioplastics for food and drink packaging 
The overall idea of UPLIFT is to biologically depolymerise bio- and fossil-based plastic packaging waste and convert it into more renewable and easily upcyclable polymers, following a biorefinery approach. UPLIFT will address the entire plastic packaging value chain, from monomer production to packaging material manufacturing and back to end of life reusing and recycling options. 
UPLIFT has received €7,5 million funding from European Union's Horizon 2020 Research and Innovation Programme under grant agreement No. 953073. 

upPE-T - sUstainable PLastIcs for the Food and drink packaging indusTry
The upPE-T project will develop, through sustainable strategies, an alternative for plastic chemical degradation,  turning PE and PET waste streams via enzymatic degradation and bioprocesses into raw material to produce biodegradable bioplastics. Finally, together with customers and food and drink brand owners, bio-based end-packaging will be demonstrated and validated to ensure fast market deployment.
upPE-T has received €7.8 million funding from the European Union's Horizon 2020 Research and Innovation Programme under grant agreement No 953214.  

PRESERVE - High performance sustainable bio-based packaging with tailored end of life and upcycled secondary use
PRESERVE aims at boosting the circular use of bio-based packaging. To shift from the current situation (fossil-based, limited recycling), we build on award-winning upcycling strategies from past and on-going projects. We will enhance the performance of primary food packaging via bio-based barrier coatings for bioplastic and paper/board substrates, as well as via eBeam irradiation and microfibrillar-reinforcement. From the biotechnological side, we will leverage the compounding of enzymes in bioplastics to stimulate biodegradation, the enzymatic recovery of functional oligomers and the delamination of multilayer packaging via enzymatic detergents to enable their layer separation and recycling.
Preserve has received €7,9 million funding from the European Union's Horizon 2020 Research and Innovation Programme under grant agreement No 952983. 
Mara Mennella (KNEIA)